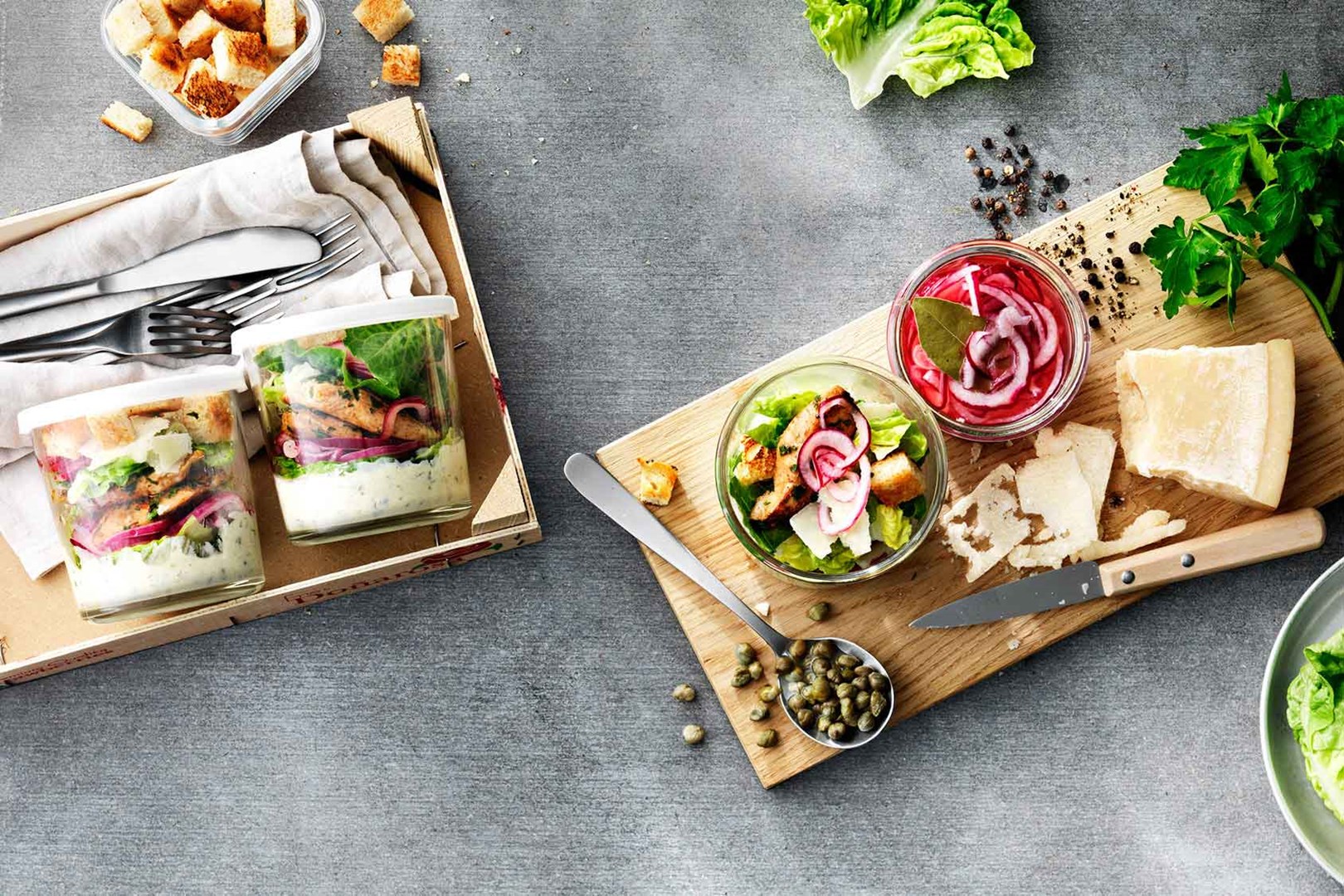 Caesar Salad in a Jar
Bring a classic Caesar salad to the summer picnic! Make it fun by serving each portion of salad in a jar. Easy peasy and no mess!
Caesar dressing
2 egg yolks
1 tbsp Dijon mustard
2 anchovies
1 garlic clove
1 tbsp white wine vinegar
200 ml rapeseed oil
50 ml capers
150 ml grated Parmesan cheese
Pickled Onions
50 ml white vinegar
100 ml sugar
150 ml water
1 bay leaf
2 red onions
How to prepare
Slice each chicken fillet in approximately six pieces and place in a plastic bag. Mix Chilli Explosion, honey, salt and Tellicherry Black Pepper with olive oil. Pour the marinade over the chicken and give it a shake. Fry over medium heat for about 3–5 minutes on each side or until inner temperature reaches 72 °C. Add the chopped parsley in the pan and stir.
Mix egg yolks, dijon mustard, anchovies, garlic and vinegar in to a dressing. Use a food processor or hand blender and stir in the rapeseed oil gently. Add the coarsely chopped capers, grated parmesan cheese and mix together. Tip: You can also use readymade Caesar dressing to save time.
Bring the vinegar, sugar, water and bay leaf to a boil. Stir until the sugar dissolves. Set aside to cool. Slice the onion in to thin rings. Add the onion to the mixture when it has cooled down and let marinate for at least an hour.
Rinse and drain the lettuce and grate the parmesan cheese. Grab four large glass jars. Start by putting the dressing in the bottom, then the drained pickled onion, romaine lettuce, chicken and croutons. Top with parmesan cheese. Put the lid on and keep the salad chilled.
Santa Maria UK Ltd ∙ Nimbus House, Maidstone Road ∙ Kingston, Milton Keynes, Bucks, MK10 0BD ∙ Telephone numbers: UK careline: 01908 933109 ∙ ROI: 1800 577 449