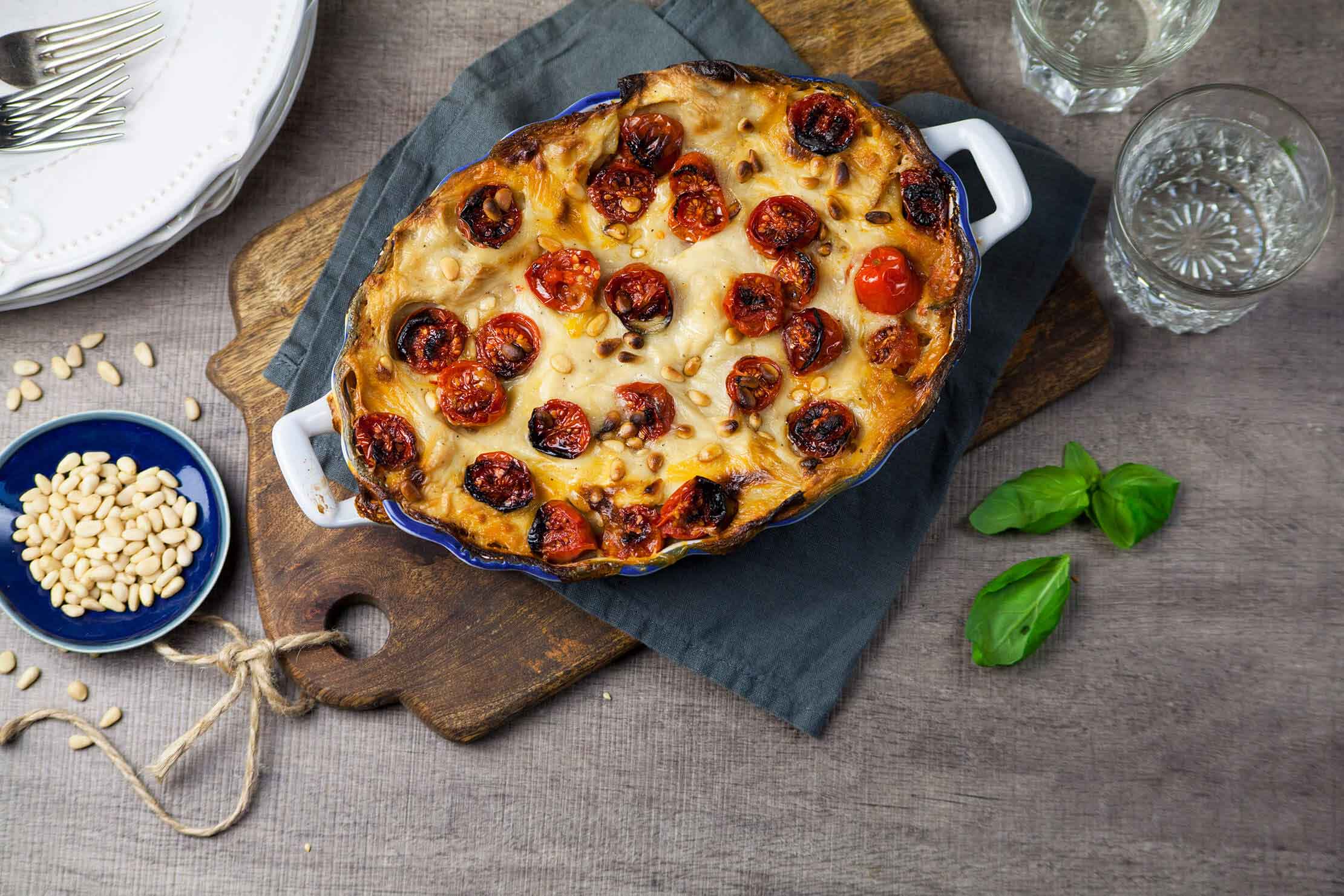 How to prepare
What to shop
Vegan lasagne is not only healthy and delicious, but also so easy to make! In this recipe, we've made a yummy filling with carrots, onion and squash and then topped the lasagne with tofu, pine nuts and cherry tomatoes.
Preheat the oven to 220°C.
Vegetable filling
Peel and finely grate the carrots. Finely chop the onions and dice the squash.
Sauté all the vegetables in oil until softened in a large frying pan.
Add the spices and crushed tomatoes. Let the sauce simmer for approx. 4 minutes on low heat.
White sauce
Melt dairy-free butter in a heavy-bottomed saucepan on low heat and stir in the flour.
Add the milk gradually, whisking constantly, and bring the sauce to the boil.
Add the spices and let the sauce simmer for approx. 2 minutes.
Lasagne
Layer the vegetable filling, sauce and lasagne sheets in a large, greased, ovenproof dish (approx. 2.5 litres). Add the white sauce to the last layer.
Thinly slice the tofu and add to the sauce. Top with halved cherry tomatoes.
Sprinkle the lasagne with pine nuts and season with Santa Maria Rock Salt.
Cook the lasagne in the lower part of the oven for approx. 40 minutes. Insert a skewer or a small knife into the lasagne to make sure it is soft and well cooked, with a golden brown surface.
Serve with a green salad and garnish with fresh basil.
Vegetable filling
3 carrots
2 onions
1 butternut squash
2 tbsp cooking oil
1.5 tbsp basil
2.5 ml ground cayenne pepper
1 tbsp smoked paprika
0.5 tsp Santa Maria Rock Salt
2 cans chopped tomatoes (400g)
White sauce
2.5 tbsp dairy-free butter
4 tbsp flour
800 ml plant-based milk
0.5 tsp Santa Maria Rock Salt
0.5 tsp white pepper
Lasagne
250 g egg-free lasagne sheets
250 g natural tofu
1 box cherry tomato
30 g pine nuts
Santa Maria UK Ltd ∙ Nimbus House, Maidstone Road ∙ Kingston, Milton Keynes, Bucks, MK10 0BD ∙ Telephone numbers: UK careline: 01908 933109 ∙ ROI: 1800 577 449