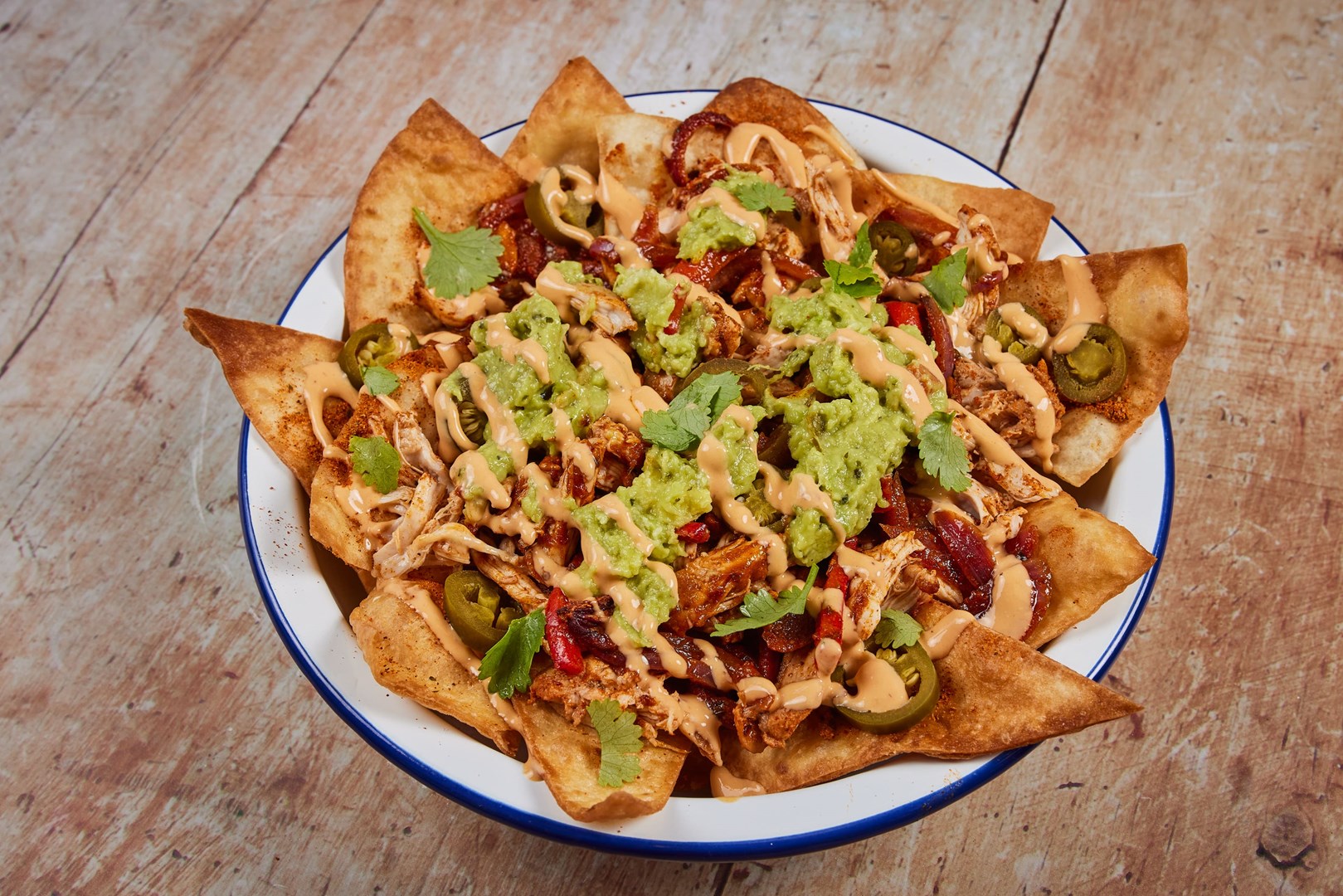 Tinga Nacho Plate
Our Mexican Tinga Nachos are a flavour fiesta! Enjoy crispy Mexican Homestyle Nachos, topped with tender Chicken Tinga, our Santa Maria Chipotle Sauce, and a kick of Sliced Green Jalapeños. Finish with our Santa Maria Frozen Guacamole and fresh Coriander. For the Chicken Tinga we highly recommend it is slow-cooked with Red Onion, Mixed Pepper, Mexican Fajita Seasoning, and Chipotle Paste.
How to prepare
Here are our 3 quick and simple steps to recreate this dish:
1. Place warm Mexican Homestyle Nacho Chips in a serving bowl
2. Add the Chicken Tinga and Jalapenos​
3. Garnish with Guacamole, Chipotle sauce and top with coriander
​
Tinga Nachos Ingredients
​
103g Mexican Homestyle Nachos

40g 45445 Santa Maria Chipotle Sauce

​

25g 4757 Santa Maria Sliced Green Jalapeños

​

60g 4919 Santa Maria Frozen Guacamole

​
60g 101263 Santa Maria Mexican Fajita Seasoning

​

30g 4618 Santa Maria Chipotle Paste

​
​Note:
Mix the red onion, mixed peppers, Fajita Seasoning, Chipotle Paste, chicken thighs together thoroughly. Place in an oven proof dish and cover. Cook at 140ºc for 2 hours. The chicken should be tender and pull easily, Mix again and finish uncovered at 160°c for 20mins.​
​
Mexican Homestyle Nacho Chips
​
1 x 12'' (100g) Tortilla ​

3g 101263 Santa Maria Mexican Fajita Seasoning

​
Note:
Chop the Tortilla into 6 Triangles and fry until crisp, toss in Mexican Fajita Seasoning
Santa Maria UK Ltd ∙ Nimbus House, Maidstone Road ∙ Kingston, Milton Keynes, Bucks, MK10 0BD