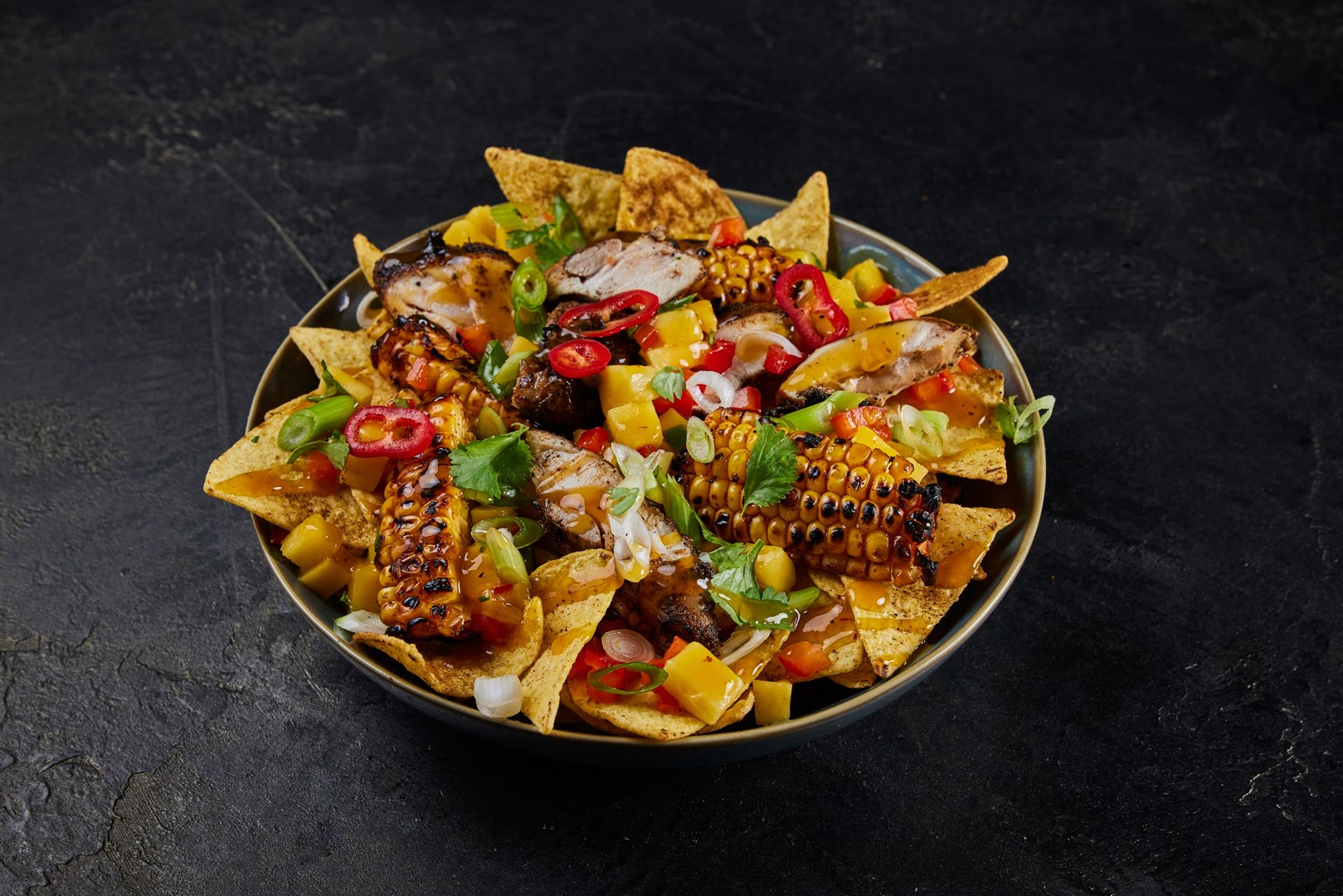 Sunshine Nacho Plate
The UK's food scene is dynamic and constantly evolving, with people looking for new and exciting flavours. Caribbean cuisine offers bold and vibrant flavours, making it an attractive option for those seeking culinary adventures. We've created a dish that takes Jamaican Jerk-seasoned chicken thighs, zesty Mango Salsa, and smoky Chipotle Sweetcorn Riblets. Sat on top of our Santa Maria Tortilla Chips, with a sprinkle of Jamaican Jerk Seasoning, Sliced Spring Onion, and Caribbean-style BBQ Sauce, this dish guarantees to deliver a burst of tasty sweet, savoury and spicy flavours!
How to prepare
Here are our 3 quick and simple steps to recreate this recipe:
1. Coat warmed chips with Jamaican Jerk Seasoning and layer in serving bowl
2. Add the Jamaican Jerk Chicken Thighs and Smoky Sweetcorn Riblets
3. Garnish with Mango Salsa, BBQ sauce Adobo, spring onions, fresh red chilli, lime wedge​
100g 321005 Santa Maria Tortilla chips

​

2g 101368 Santa Maria Jamaican Jerk Seasoning

​

3 x Smoky Sweetcorn Riblet

15g Sliced Spring onion.​

25g finely diced Mango salsa​
Jamaican Jerk chicken thighs
​
10g 101368 Santa Maria Jamaican jerk Seasoning
​
Season Chicken with Jamaican Jerk seasoning and chargrill ​
25g finely diced Mango salsa​
NOTE:
Mix altogether and set aside.​
10g 4618 Santa Maria Chipotle Paste
​
Rub paste over the corn and cook as per instructions.​
15 g 200594 BBQ Sauce Caribbean Style Adobo
​
Santa Maria UK Ltd ∙ Nimbus House, Maidstone Road ∙ Kingston, Milton Keynes, Bucks, MK10 0BD