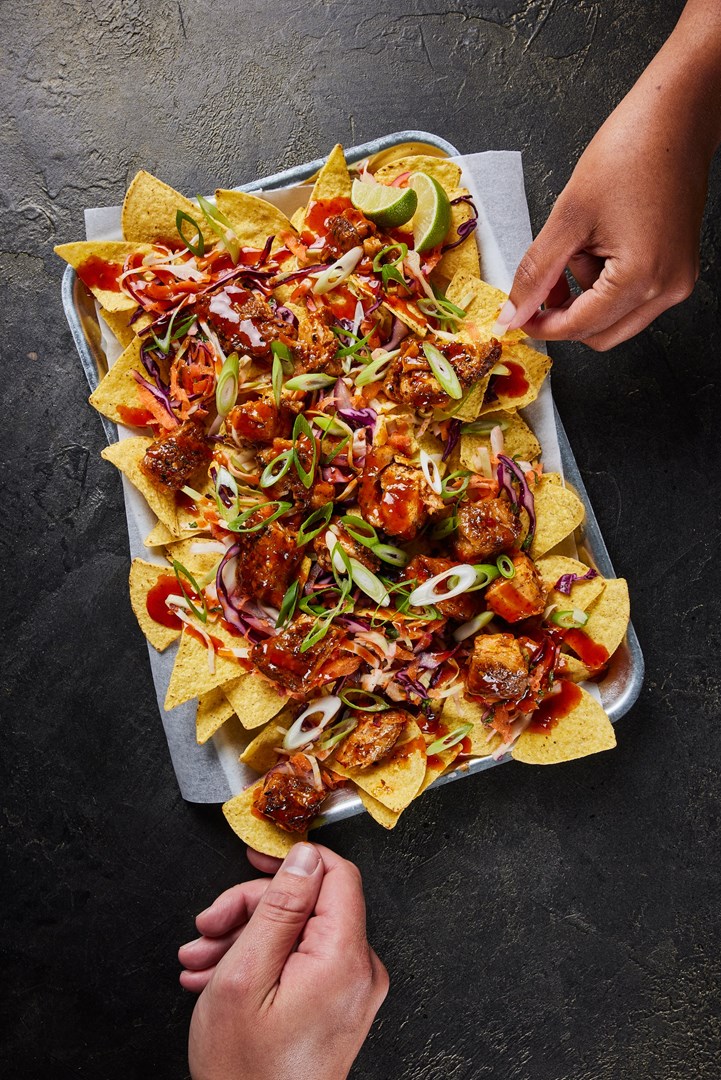 K-Nachos
Korean food has experienced a surge in popularity and trendiness on the global culinary scene in recent years. It is known for its bold flavours, varied dishes, and use of ingredients like kimchi, soy sauce and ginger. In this recipe, we have taken those flavours and created K-Nachos.
How to prepare
Here are our 3 quick and simple steps to recreate this dish:
1. Layer Tortilla chips on a tray, best served warm
2. Top with Pork belly and Kimchi
3. Garnish with BBQ sauce, spring onions and lime​
Korean caramelised pork belly
​
101999 5g Red Chilli & Ginger Rub

​

200592 15g BBQ Sauce Korean Style

​

Season pork belly with red chilli & ginger and braise in the oven until tender. When ready to serve dice and glaze in BBQ Korean sauce and pan fry until caramelised. ​
20 g Sliced White Cabbage​
1 g Santa Maria Kimchi spice mix
​
To make the kimchi, mix the cabbage, carrot and red onion together, Add the lime juice and coat in the Kimchi Spice Mix ​
(32105) 150g Santa Maria Salted Tortilla chips

​

145g Korean caramelised pork belly (as above)​
(200592) 15g BBQ Sauce Korean Style
​
71g Kimchi slaw (as above)​

15g Spring onion to garnish.
Santa Maria UK Ltd ∙ Nimbus House, Maidstone Road ∙ Kingston, Milton Keynes, Bucks, MK10 0BD