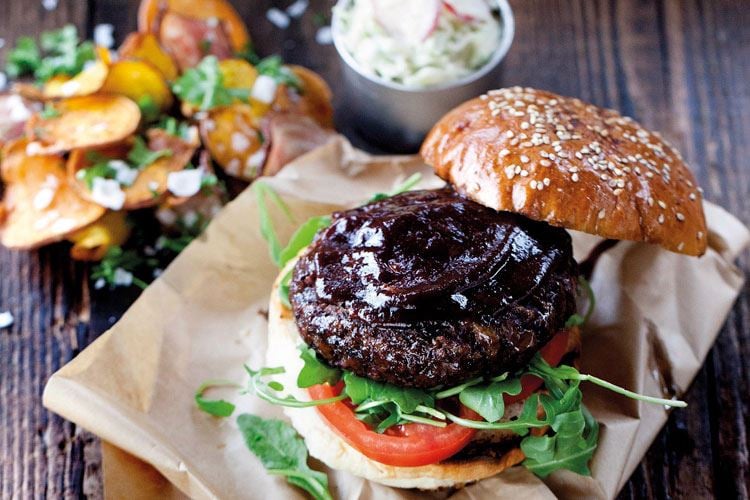 We are the burger boom generation
We're pretty sure you've heard of the baby boom, but did you know we're currently in the midst of a burger boom?
Putting pressure on the humble sandwich, 12.9% of lunches and dinners in 2015 involved a burger[1], and this rise in popularity is showing no signs of slowing. Last year, sales at quick service burger restaurants reached £4.2 billion and The NPD Group predicts this figure will grow to as much as £4.6 billion by 2017[2] . The boom is even causing industry giant McDonalds to pilot premium burgers across its range, in order to compete with the influx of gourmet burger joints sweeping the nation.
So you get the idea, we have a surplus burger situation going on, but what are we to do? Try them all, of course!
A pioneer of London's original burger scene, Patty & Bun has recently opened its fourth and largest venture in Soho. Still making all their classics including the 'Hot Chic' chicken burger, made with marinated buttermilk fried chicken, they've also added a bar area, where burgers can be washed down with a selection of craft beers.
Predicted to increase by 23% over the next 3-5 years[3], the trend for fusion dining continues with the emergence of bao/burger hybrids. Pho & Bun's Steamed Milky Bun Burger ticks all the boxes of a classic burger but with oriental flare, whilst BAO is satisfying consumers' growing sense of adventurism for Asian flavours[4] across its three London locations in Soho, Fitzrovia and the original BAO BAR at Netil Market.
Bao burgers and their indulgently fluffy buns aside, French style 'Hamburgés' are also having a moment. Le Bun has recently concluded its successful residency at The Zetter hotel, but with talks of a permanent home in the pipeline, we'll have their beef bourguignon burgers back in hand before we know it.
And when it comes to chowing down on French cheese, any excuse will do. The burgers at Big Fernand combine a choice of beef, lamb, chicken or veal with imported French cheeses that melt gluttonously down the side of their home made buns.
Thanks to La Grande Viande, it's not only Londoners who can enjoy burgers of the French persuasion. Served from a converted horse box at Birmingham's Digbeth Dining Club, their Le Provençal burger combines slow roasted lamb with smoked bacon ratatouille and local goat's cheese, for a street food take on classic French flavours.
So there you have it… A selection of the Santa Maria team's favourite restaurants for enjoying the burger boom. Bon appetite!
---
Santa Maria UK Ltd ∙ Nimbus House, Maidstone Road ∙ Kingston, Milton Keynes, Bucks, MK10 0BD