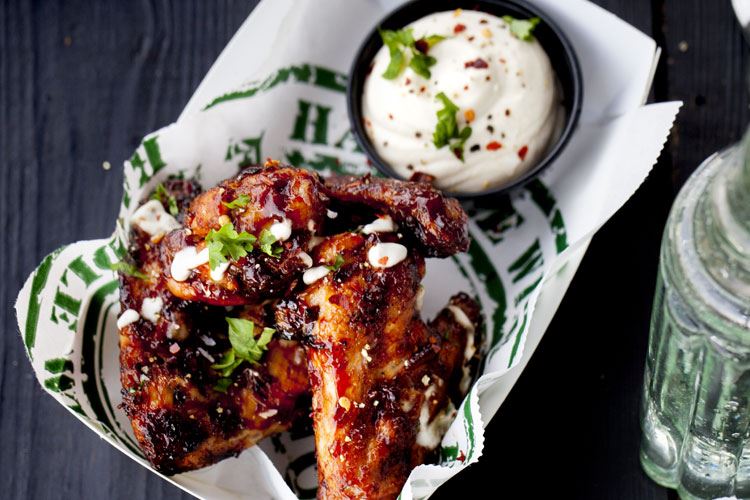 Street food 'on the move'
It's no secret that London is a street food mecca, we've been championing it for years now.
Showing no signs of slowing, each day brings with it glorious tweets announcing new and exciting vendors. They get our taste buds all fired up and have us counting down until we can try the latest and greatest in street food fare across the capital.
However, it would be amiss of us to ignore the fantastic and equally innovative offerings emerging outside of London. Not to be overshadowed, places like Birmingham, Manchester and Leeds are experiencing their own mini-booms with delicious repercussions.
Here are a few locations outside of London that have us booking train tickets and planning road trips in the coming months…
Riverside bar @OracleLeeds hosts #streetfood kitchen takeover @fatannies Hot Dogs to kick of proceedings
Any northerners looking to get a bang from their street food buck need look no further than riverside bar and club Oracle. Having rebranded its ground floor as 'The Kitchen', it's hosting an array of street food vendors this year, with Fat Annie's and their quality hotdogs the first of many guest street foodists to occupy the space from March onwards.
@MasterChefUK winner @shelinacooks to open new #Mauritian #streetfood kitchen @lakazmaman
The food at MasterChef 2012 winner, Shelina Permalloo's new Mauritian, street food inspired restaurant is so good, you could be forgiven for drifting off and confusing Southampton's coastline for the golden beaches of the Caribbean (give or take 20 or so degrees). Serving up beautiful, refined and exotic dishes inspired by Shelina's heritage, Lakaz Maman is worth venturing south for some sun (maybe), sand and (guaranteed) top notch street food.
#Manchester brewery to host monthly fair
You can find a beautiful union of craft beer and street side dining at Manchester's Runaway Brewery from late March. Held monthly, the Grub Food Fair features independent street food traders Boerewors Bloke (traditional Dutch sausage - grilled South African style), No Tacos (fusion tacos – read more on Mexican fusions here), Chaat Cart (Indian street food specialising in Dosa) and bakehouse Blawd Co.
Combined with craft beer from Runaway and music from local alternative DJs, we're tipping it to be a huge hit over the coming summer months.
Gourmet mac 'n' cheese you say! #Exeter man launches new #streetfood business @GourmetSK
Following recent insight from Horizons telling us the presence of macaroni and cheese on British menus has increased by – wait for it – 550%, we'd say that the Exeter foodies behind the Gourmet Street Kitchen are on to a good thing! Their gourmet mac 'n' cheese combines the familiar qualities of this classic favourite but with some tantalising twists - think king prawns with roasted and pickled fennel and tarragon; Spanish chorizo with homemade harissa and caramelised onion; Italian pancetta, wild mushroom and garlic; smoked haddock with spinach and nutmeg; and of course the traditional 3 cheese mac to name a few. They've donned it '21st century mac 'n' cheese', and we're dying to try it out.
Six amazing new #streetfood traders at @DigbethDiningClub for 2016
A street food 'early adopter' thanks to the Digbeth Dining Club, Birmingham has enjoyed a thriving alternative street food scene since 2012. A multi award winning event, Digbeth operates every Friday from 5 'til late and is the perfect place to unwind and ease out of the working week. Best of all, it has all of our favourite bases covered. From authentic Mexican flavours at Habaneros and Cafe Horchata, A-grade burgers from The Flying Cows and The Meat Shack and Asian inspired BBQ from , we're not sure our stomachs are big enough to try them all.
So there you have it, the Santa Maria team's pick of the best street food from outside the capital. Travel, go forth and most importantly, enjoy!
Santa Maria UK Ltd ∙ Nimbus House, Maidstone Road ∙ Kingston, Milton Keynes, Bucks, MK10 0BD