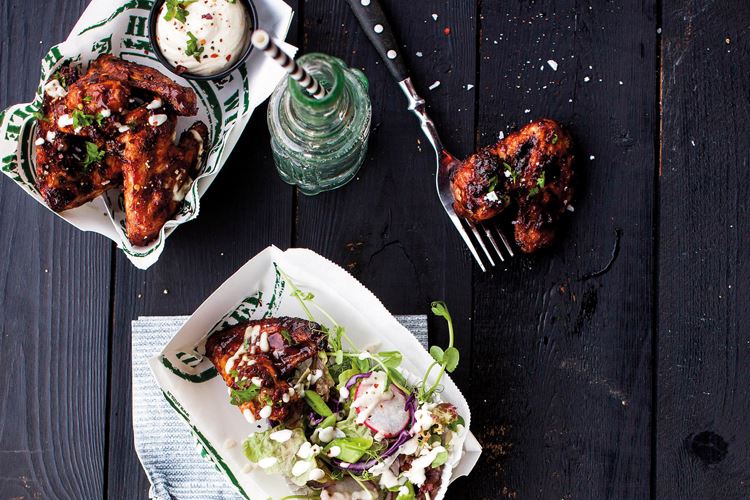 British Street Food Awards hits Hillsborough for first ever NI heat
The British Street Food Awards (BSFA) is pitching up in Northern Ireland for the very first time on Saturday 3 September, and it promises to be a 'craic-er'. Hillsborough International Oyster Festival in Belfast hosts the heat, and as proud sponsors of the BSFA, Santa Maria will be there too.
The last heat before the much anticipated final at the Rainbow Arena, Digbeth, Birmingham, on Saturday 17 and Sunday 18 September, we've taken a sneak peek at the shortlisted street food vendors – and natural ingredients, cooking from scratch, and comfortingly local grub is order of the day.
Here's a heads up on what's in store…
Wolf and Devour from Bangor, County Down, is big on simple food perfectly finished, like their speciality rosemary and parmesan fries. Everything is homemade from their chicken batter, to the last dollop of slaw – not an additive to be found.
Rocketvan from Banbridge, County Down is on a mission to bring the goods to the street food scene in more way than one. Angelically good health credentials, premium quality ingredients and nutrition are on the menu, without skimping on taste. Their satay chicken, 'rockamole' and cashew salad is their signature dish.
And when it comes to natural eating, The Linen Hill Street Kitchen's veg is as local as it comes – straight out of their kitchen garden.
The flag flown for natural food by the Hillsborough heat street food traders points towards a wider trend for healthy eating. The latest MCA Eating Out Report reveals that healthier eating is the most important consumer trend affecting the UK eating out market in 2016, according to food and drink industry experts.[1]
Consumers are more aware of their diets, and better informed about nutrition than ever before, and they're looking for ways to eat healthily but still enjoy a meal out. We know that the key to healthy eating is great taste. Our authentic world spice blends are inspired by street food, and packed with taste and flavour. Check them out here.
If you need inspiration for making healthy meals with a tasty twist, visit our recipes page. And follow us on Twitter and Instagram @SantaMariaFSUK for daily hints and tip.
To find out more about the British Street Food Awards, visit: www.britishstreetfood.co.uk/festival and www.facebook.com/britishstreetfood. Find them on Twitter @BritStreetFood.
Santa Maria UK Ltd ∙ Nimbus House, Maidstone Road ∙ Kingston, Milton Keynes, Bucks, MK10 0BD