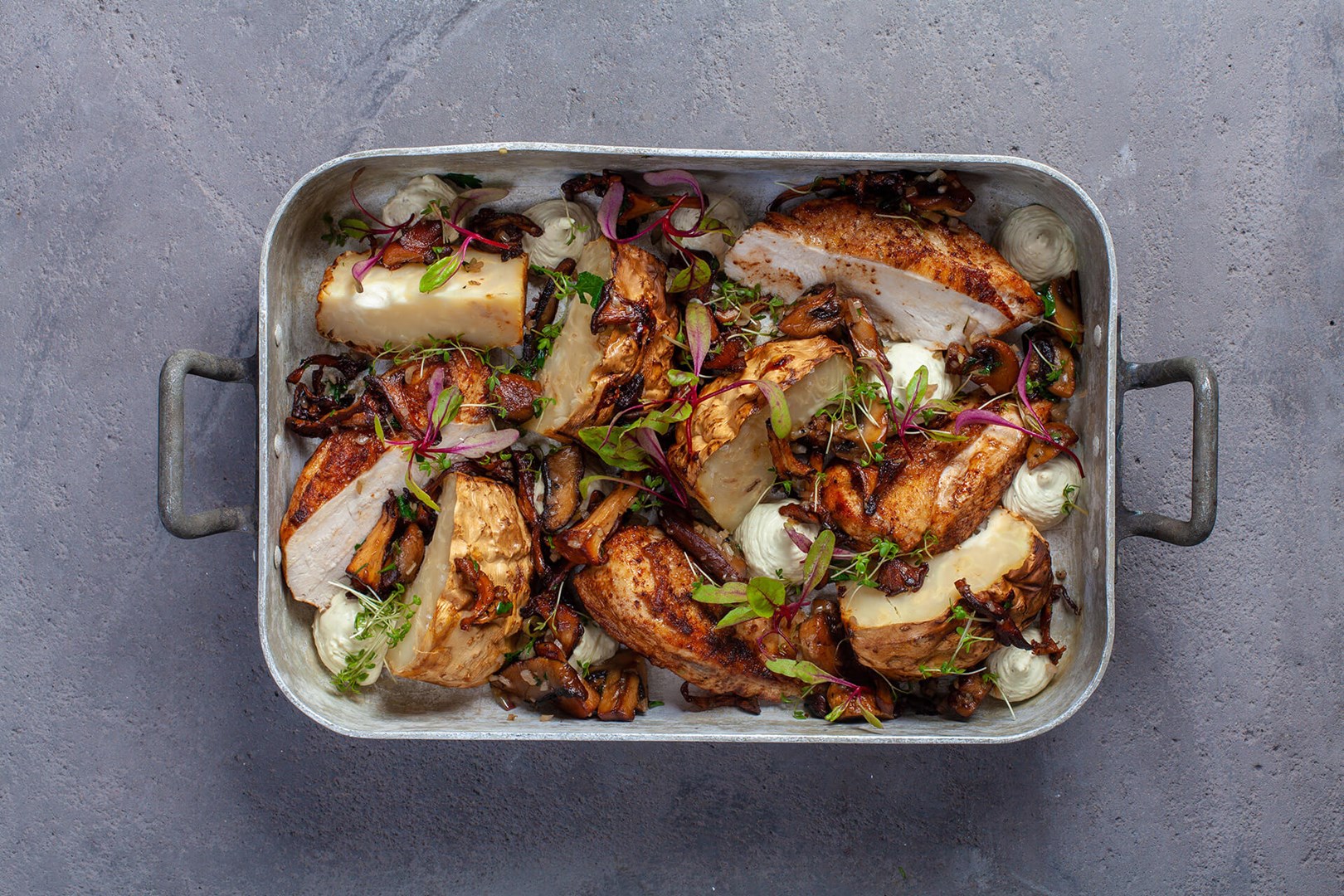 Whole baked celeriac with autumn mushrooms, chicken and herb cream
Autumn's best flavours in tha same dish! Serve umami rich oven baked celeriac with chicken and butter fried mushrooms.
Celeriac
1 pc celeriac
2 tbsp oil
1.5 tsp salt
Mushrooms
200 g mushrooms
200 g chanterelle
50 g butter
1.5 tsp salt
1 pc shallot
1 pot chive
1 pot parsley
Chicken
4 pcs chicken fillets
2 tbsp cooking oil
2 tbsp butter
How to prepare
Celeriac
Pre heat the oven to 150 ° C.
Peel the celeriac and cut into 2-4 pieces.
Rub with oil and salt and bake in the oven for about 40-60 minutes. The celeriac is done when it is soft all the way through but has a little core left.
Mushrooms
Rinse and cut the mushrooms into smaller pieces.
Fry in a hot pan with plenty of butter. Add salt to taste.
Remove the pan from the stove and mix around finely chopped shallots, chives and parsley.
Chicken
Salt and pepper chicken fillets and fry in oil and butter in a hot frying pan to the chicken get a nice surface.
Bake in the oven with the celeriac for about 10 minutes or until the inside temperature is 75 ° C.
Herb cream
Mix crème fraiche, cream cheese, garlic paste, basil paste and lemon juice in a bowl. Season with salt and pepper.
Tip! Top the dish with fresh herbs for extra taste.
Santa Maria is a part of the world food and flavouring division of Paulig group