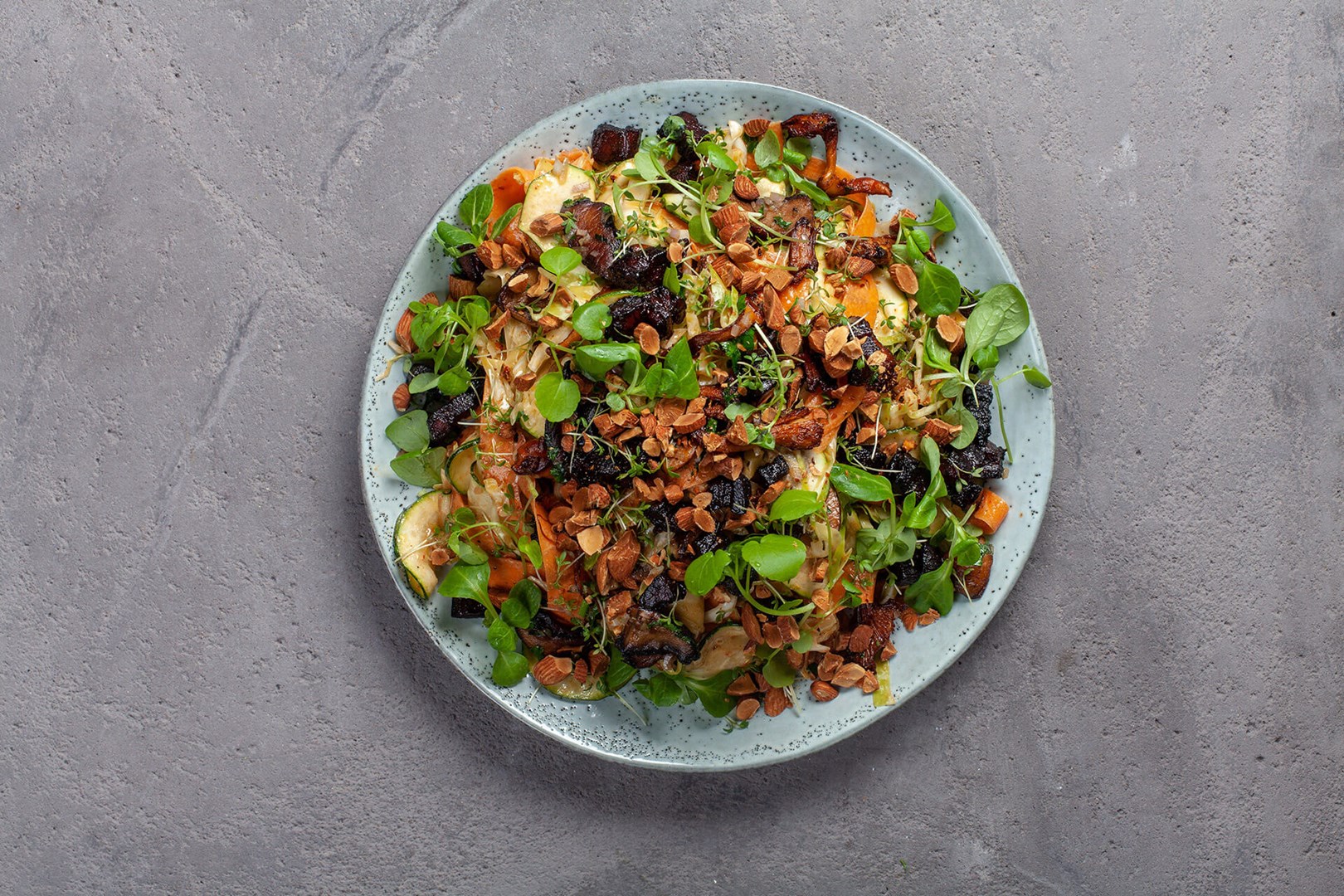 Autumn cabbage salad with vinegar-cooked pork belly
A really tasty cabbage salad with lots of fresh vegetables, topped with smoked and sweet pork belly and crunchy roasted almonds.
Salad
1 pc pointed cabbage
2 pcs shallots
3 pcs carrots
0.5 pc zucchini
300 g mushrooms
1 pc apple
1 pot parsley
Vinegar-cooked pork belly
300 g smoked pork belly
1 dl balsamic vinegar
Topping
2 dl roasted almonds
How to prepare
Salad
Slice the pointed cabbage and the shallots on a thinly, preferably with a mandolin.
Slice carrots and zucchini thin with a potato peeler.
Cut the mushrooms into quarters and fry in a hot frying pan with butter. Add salt to taste.
Great the apple and mix all vegetables with finely chopped parsley on a large dish.
Vinegar-cooked pork belly
Dice the smoked pork belly and fry in a hot pan until it gets a nice colour.
Add balsamic vinegar and let it boil in while stirring.
Dressing
Mix rapeseed oil, dijon mustard, lemon juice, chilli paste, black pepper and salt in a bowl and stir properly.
Mix the dressing with the salad.
Topping
Oven roast almonds at 150 ° C until they have a smooth color. Allow to cool and shop coarsly.
Top the salad with pork belly and roasted almonds.
Tip! Top the salad with some extra fresh herbs, cress or ruccola.
Santa Maria is a part of the world food and flavouring division of Paulig group