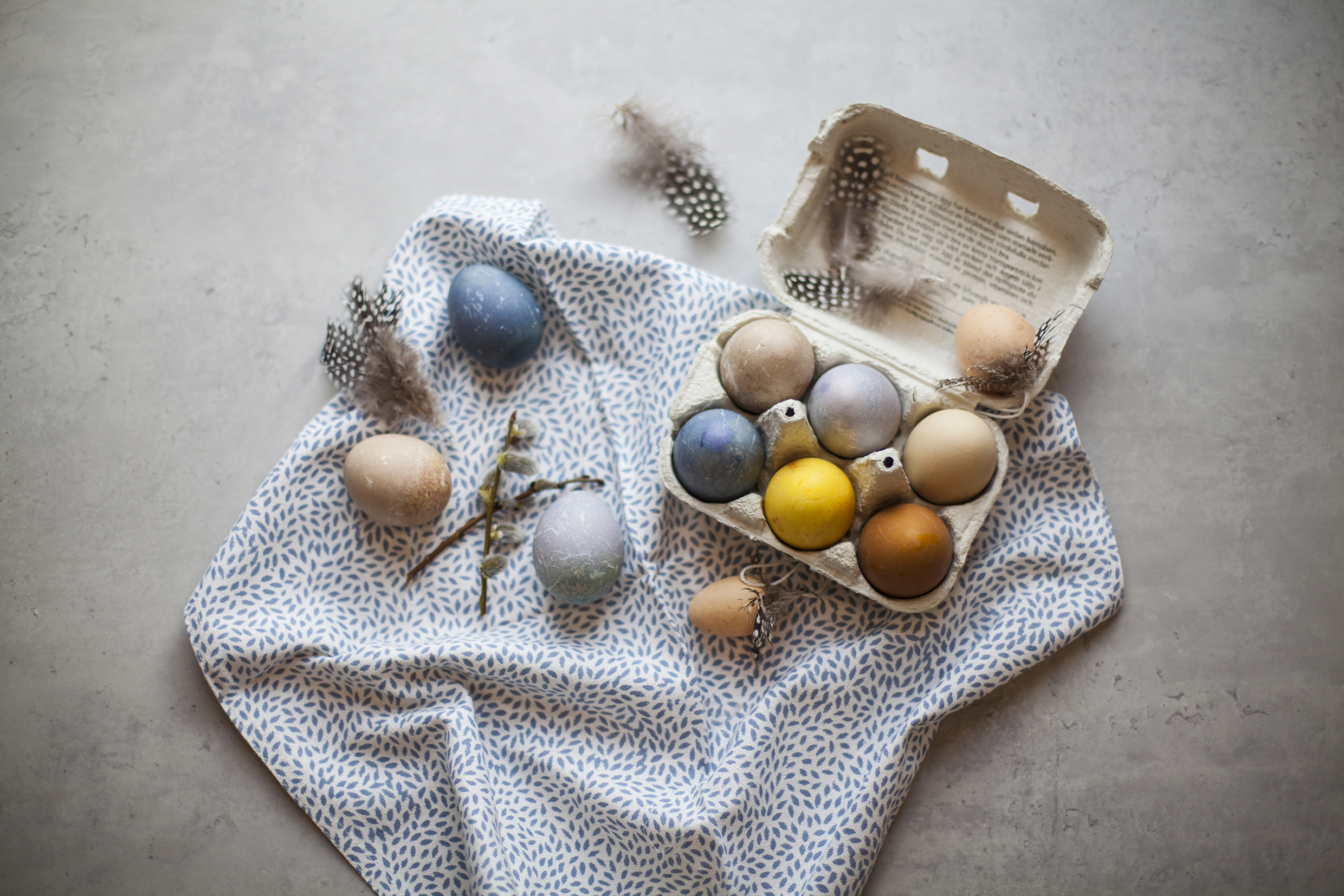 How to prepare
What to shop
It's easy to make your own coloured eggs for the Easter holidays!
Boil the eggs 5-8 minutes depending on what you prefer.
Prepare the colouring baths by adding colour components and hot water in a mug.
Cool them in cold water, clean them with white wine vinegar and a dry cloth.
Drain them for 6-10 hours in the prepared colour bath. Drain the eggs until they have enough colour, dry on paper.
Blue eggs
0.5 tsp white wine vinegar
1.5 tbsp blueberry
125 ml boiling water
Yellow eggs
0.5 tsp white wine vinegar
0.5 tsp turmeric
125 ml boiling water
Brown eggs
0.5 tsp white wine vinegar
100 ml strong coffee
Pink eggs
0.5 tsp white wine vinegar
25 g finely chopped red cabbage
125 ml boiling water
Beige eggs
0.5 tsp white wine vinegar
0.75 tbsp paprika
125 ml boiling water
Blue eggs
1 tsp white wine vinegar
3 tbsp blueberry
250 ml boiling water
Yellow eggs
1 tsp white wine vinegar
1 tsp turmeric
250 ml boiling water
Brown eggs
1 tsp white wine vinegar
200 ml strong coffee
Pink eggs
1 tsp white wine vinegar
50 g finely chopped red cabbage
250 ml boiling water
Beige eggs
1 tsp white wine vinegar
1.5 tbsp paprika
250 ml boiling water
Blue eggs
2 tsp white wine vinegar
6 tbsp blueberry
500 ml boiling water
Yellow eggs
2 tsp white wine vinegar
2 tsp turmeric
500 ml boiling water
Brown eggs
2 tsp white wine vinegar
400 ml strong coffee
Pink eggs
2 tsp white wine vinegar
100 g finely chopped red cabbage
500 ml boiling water
Beige eggs
2 tsp white wine vinegar
3 tbsp paprika
500 ml boiling water
Santa Maria UK Ltd ∙ Nimbus House, Maidstone Road ∙ Kingston, Milton Keynes, Bucks, MK10 0BD ∙ Telephone numbers: UK careline: 01908 933109 ∙ ROI: 1800 577 449