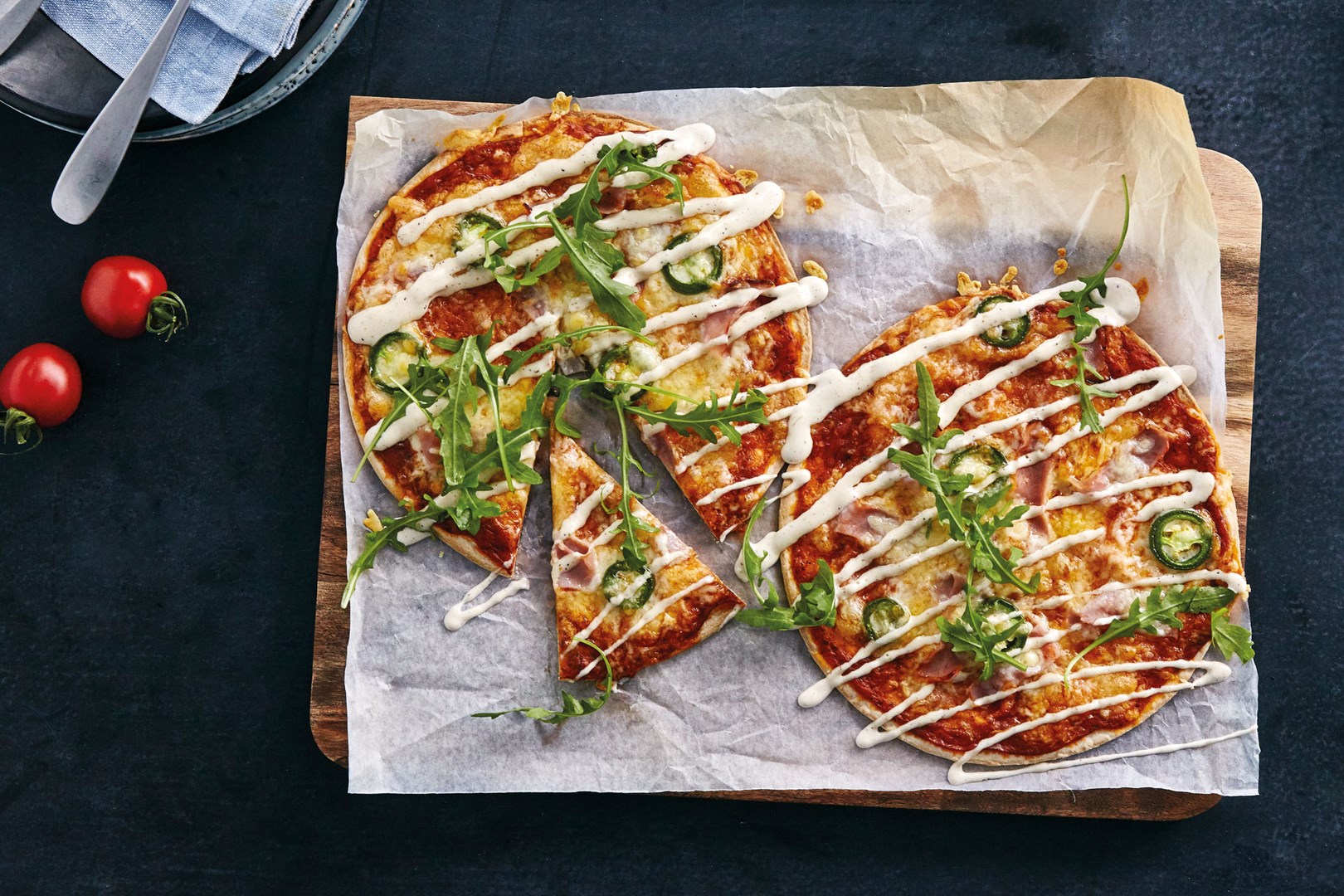 Tortilla pizza with ham and jalapeños 火腿配墨西哥辣椒玉米餅披薩
10 Mins

5 Mins

9 Ingredients

Medium
With this recipe, you make the neighborhood's tastiest pizza in a quarter of an hour! Pizza sauce on ready-made tortilla bases and top with smoky ham, tasty taco sauce and hot jalapeños. - 有了這個食譜,你可以在一刻鐘內做出最美味的披薩! 墨西哥披薩醬放在現成的玉米餅底上,上面再放上煙熏火腿、美味的玉米餅醬和墨西哥辣椒!
How to prepare
Preheat the oven to 250 ° C.

Shred the smoked ham.

Spread on about 2 tablespoons of pizza sauce on each tortilla and top with grated cheese. Then spread ham, jalapeños and clicks of taco sauce over the pizzas.

Place the pizzas on a plate and bake for 5-8 minutes, until the cheese is melted and the pizza has a nice color.

Drizzle over pizza topping, season with pizza seasoning and serve with arugula.

Have a nice meal!
做法
將烤箱預熱至250°C。
將煙熏火腿切絲。
在每個玉米餅餅皮上塗上約 2 湯匙墨西哥披薩醬,並在上面撒上磨碎的奶酪。 然後在玉米餅餅皮上塗上火腿、墨西哥辣椒和玉米餅醬。
將玉米餅餅皮放在盤子上烤 5-8 分鐘,直到奶酪融化。
用披薩調味料調味,並與芝麻菜一起食用。
吃一頓美餐!