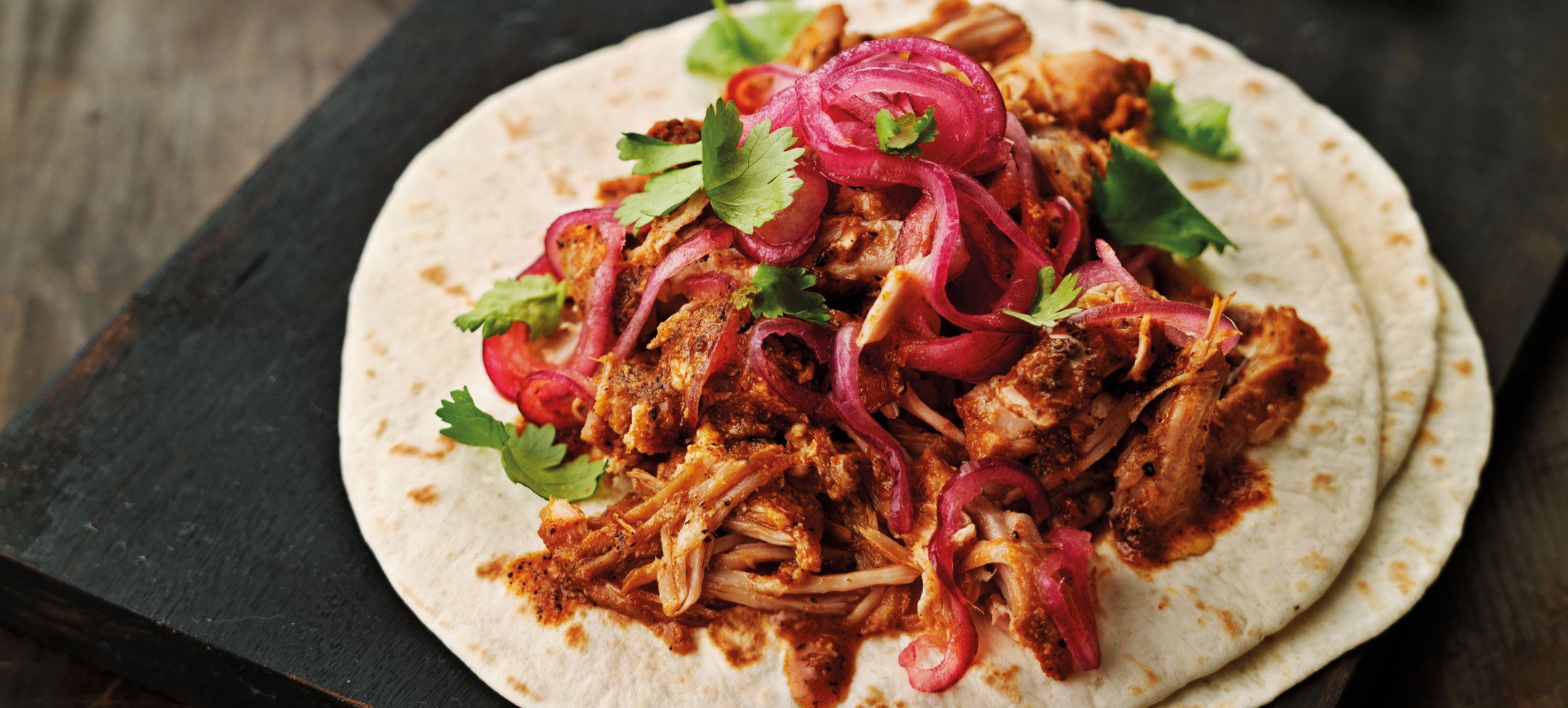 How to prepare
What to shop
Create the perfect Pulled Pork in only 90 mins, using our amazingly tasty Pulled Pork Seasoning Mix. You'll get a fusion of flavours with smoky tones. There's no need for overnight marinating or lengthy slow-cooking. Serve in our soft Mini Tortillas, with red onion soaked in our sweet and zesty Red Onion Seasoning Mix. Then top with our tangy Chipotle BBQ Sauce. The whole family will enjoy this Pulled Pork sensation.  
Heat oven to 175°C/gas mark 4. Remove the cooking bag from the Pulled Pork Seasoning Mix and place the meat inside. Sprinkle the Seasoning Mix in and add the water. Close the cooking bag with the tie provided. Supporting the weight of the cooking bag, shake gently until the meat is evenly coated in the Seasoning Mix.
Place the cooking bag in an ovenproof dish, in the lower part of the oven and cook for 90 mins. Make sure the cooking bag isn't touching any part of the oven, as it'll expand during cooking.
Whilst the meat is cooking, chop the red onion into thin slices, add into a bowl and sprinkle the Red Onion Seasoning Mix, until thoroughly covered. Leave for at least 10mins to soak through. But the longer you leave it, the better it'll taste.
When the meat is cooked, leave for a few mins before opening. Then carefully open the cooking bag. Pour the meat and juices into the dish and tear the meat apart using 2 forks. The meat should be tender and soft, and easy to shred.
Warm the Mini Tortillas and fill with the Pulled Pork, red onions and top with the tangy Chipotle BBQ Sauce. Enjoy this infusion of flavours.
Chef's Tip! Use our Plain Flour Soft Tortillas or even the Large Soft Tortillas for the ultimate Pulled Pork wrap!
Recipe Ideas –
Load Taco Shells or seeded brioche buns with Pulled Pork, red onion slaw, fries and grilled corn on the cob, for the ultimate Southern USA experience.
Fill your wraps with Pulled Pork, red onion, Chipotle BBQ Sauce, rice and a sprinkling of cheese for a hearty meal.
Santa Maria UK Ltd ∙ Nimbus House, Maidstone Road ∙ Kingston, Milton Keynes, Bucks, MK10 0BD ∙ Telephone numbers: UK careline: 0800 018 0002 ∙ ROI: 1800 577 449