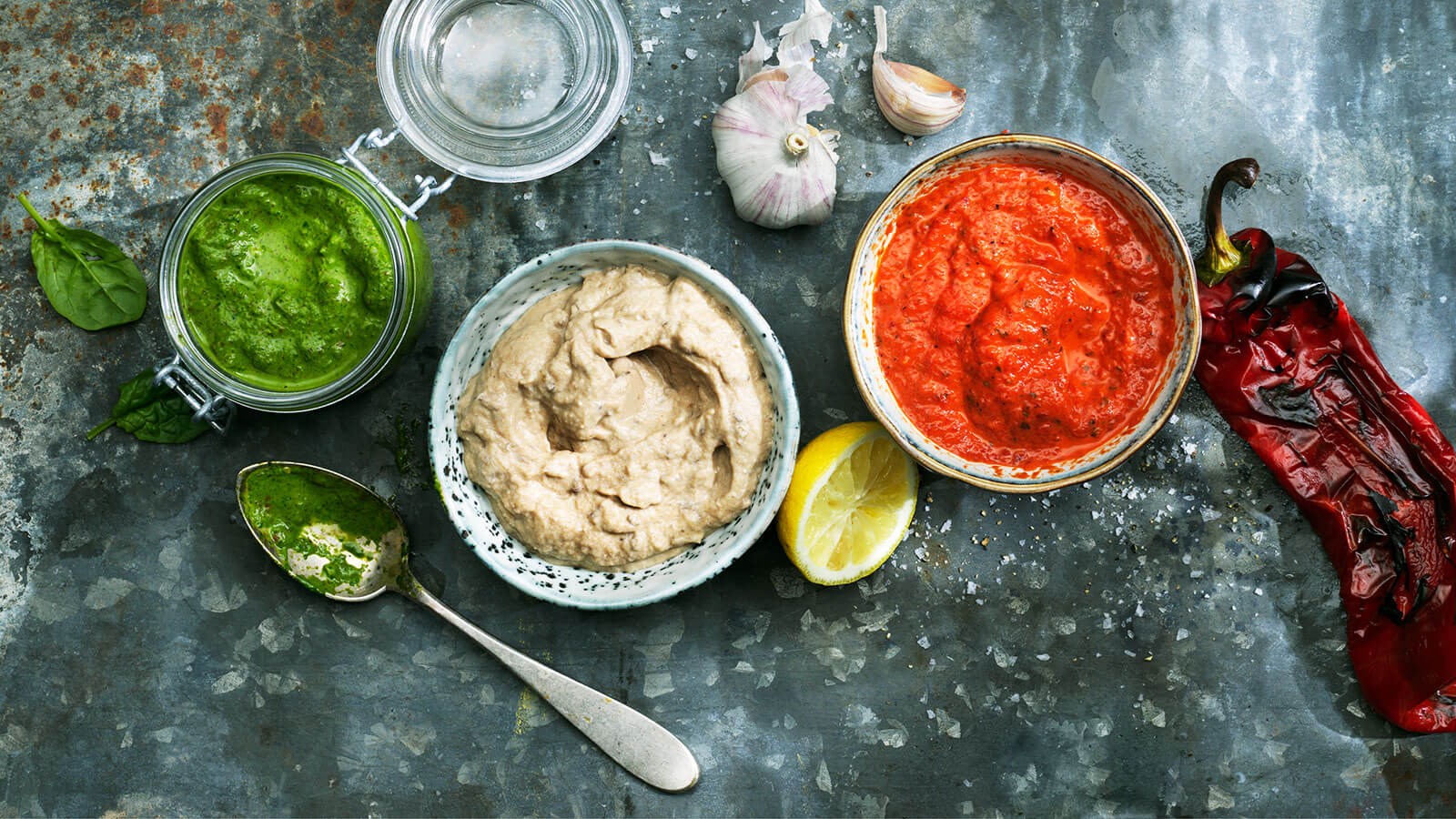 Three brilliant BBQ sauces
No barbecue is complete without the accompaniments and here we have collected three brilliant sauces that goes along with almost anything you put on the grill.
Chimichurri with dill
1 tbsp chopped dill
70 g baby spinach
1 tsp
1 clove garlic
1 dl rapeseed oil
1 tbsp lemon juice
2 pinches salt
2 pinches
0.5 silverskin onion
2 tsp
Smoky aubergine dip
1 aubergine
3 tbsp olive oil
2 cloves garlic
1 tsp
2 dl Turkish yoghurt
1 pinch salt
How to prepare
Chimichurri with dill
Mix dill, baby spinach, mint, garlic, oil, lemon juice, salt and pepper in a food processor or hand blender.
Stir in finely chopped silverskin onion and chilli flakes.
Serve with salmon tacos for example, or grilled vegetables.
Smoky aubergine dip
Cut the aubergine into four wedges lengthwise and grease the pieces with oil. Grill covered on direct heat for about 5 mins. They are ready when they have nice grill marks and are soft.
Scrape out the flesh and place in a bowl. Add garlic and paprika seasoning. Mix into a purée with a hand blender. Add yoghurt and season with salt.
Serve as a sauce for BBQ or as a dip for vegetables or chips.
Grilled bell pepper sauce
Grill the bell peppers and onion halves on hot, direct heat to get a good colour.
Cut the bell peppers and onion halves into rough pieces when slightly cooled.
Mix all ingredients in a bowl and work into a smooth sauce.
The sauce can be served either hot or cold and is delicious with most things.
Santa Maria is a part of the world food and flavouring division of Paulig group