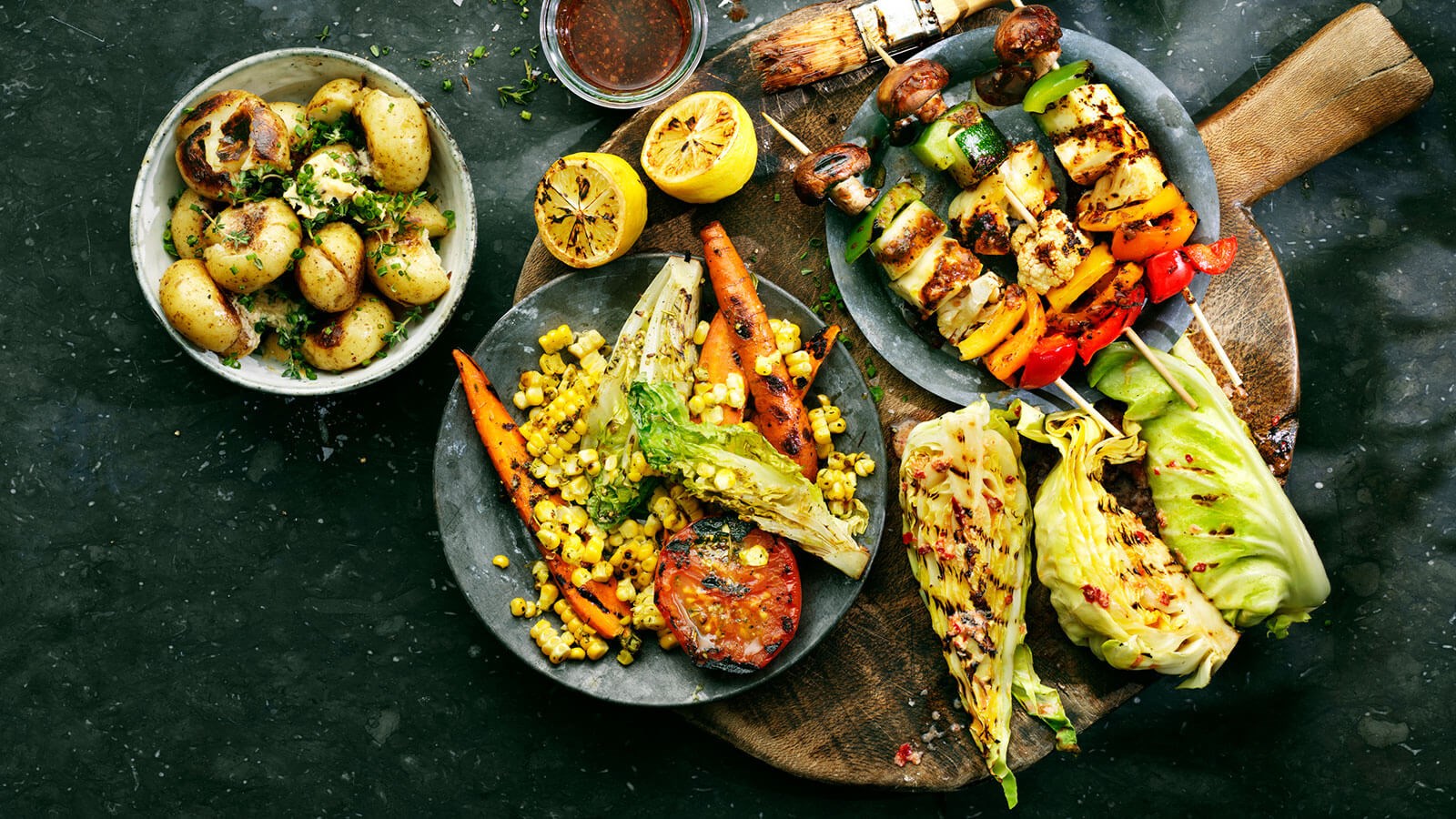 Grilled green sides
Cook the entire dinner on the grill! Here are four nice recipes on grilled greens and potatoes.
Smashed potatoes with garlic butter
1 kg potatoes
50 g butter
4 cloves garlic
1 tsp Santa Maria BBQ Spices Allround
0.5 dl fresh herbs, such as chives and thyme
Grilled salad
2 heads romaine salad
4 plum tomatoes
1 bunch carrots
3 tbsp oil
1 sachet Santa Maria BBQ Rub Herbs
2 corn cobs
Grilled cabbage
1 small cabbage
3 tbsp oil for brushing
2 tbsp lemon juice
2 tsp Santa Maria Sambal Oelek 100 g
2 cloves garlic
0.5 dl olive oil
1 pinch salt
How to prepare
Smashed potatoes with garlic butter
Boil the potatoes
Mix the butter, garlic and BBQ spices into a herb butter.
Spread the boiled potatoes on the aluminium foil. Press the potatoes with something heavy so you squash them and spoon on the garlic butter.
Place a new foil sheet over the top and fold over into a flat packet.
Place the potato package on the barbecue rack and bake for about 4 mins on each side.
Open the foil and sprinkle with fresh herbs.
Grilled salad
Cut lettuce, tomatoes and rinsed carrots, into halves.
Mix all the vegetables with the oil and the rub, then grill on medium, direct heat until they have colour and have softened somewhat.
Hold the grilled corn cobs by the top and cut off the corn. Mix all the vegetables and serve.
Rainbow skewers
Place the skewers to soak. Cut the bell peppers, squash and cauliflower into chunks.
Cut halloumi into four pieces.
Thread the vegetables, halloumi and whole champignon on to the skewers.
Place the skewers in a bag and pour over the marinade. Marinate for about 20 mins.
Barbecue the skewers on medium high, direct heat until they are browned.
Grilled cabbage
Cut the cabbage into rough wedges and brush with oil.
Whisk together lemon juice, sambal oelek, garlic and olive oil. Season with salt. Pour into a bowl and set aside.
Grill the cabbage wedges on medium, direct heat. Turn over when the cabbage has a slightly burnt surface. Repeat for the other side.
Place on a plate and drizzle over the dressing.
Santa Maria в Латвии ∙ улица Маза Краста 83 ∙ Рига, LV-1003 ∙ Телефон: +371 67244233